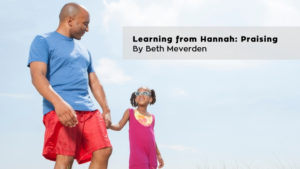 AFTER Hannah dedicated her son to a life of serving God at the temple learning from Eli, she rejoiced in God. She praised Him. She called Him her horn, which is a symbol of strength. Without God's strength and provision, she would have never been able to entrust her son, Samuel, into the priest, Eli's, care and training.
What has God lead you through to get you to this point in your parenting journey?
When each of our children was born, there was a concern about their health. Each of those concerns were alleviated within 24 hours and they are all healthy and strong now. But those moments of "what if" questions were terrifying.
I have loved ones who have walked through cancer, chronic illness, disability, learning challenges, life-threatening accidents, and rebellion with their children. Our parenting-the-18-and-under-crowd-journey isn't complete, yet. I don't know what else we will face for and with our children. I know that there will be challenges throughout their lives, but I will follow Hannah's example of seeing them as God's gift to us no matter the circumstance, praying for them, entrusting them to others who will care for and train them with me, and praise God for all He is doing in and though their lives.
He alone is worthy of that praise. I praise God for who He is in my children's lives now and who He will be to and for them. I thank God for what He will do, for all He has done, and is doing in my children's lives right now.
Then Hannah prayed and said:
"My heart rejoices in the Lord;
in the Lord my horn[a] is lifted high.
My mouth boasts over my enemies,
for I delight in your deliverance.
2 "There is no one holy like the Lord;
there is no one besides you;
there is no Rock like our God.
1 Samuel 2:1-2
Then Beth prayed and said:
"My heart rejoices in the LORD; In the LORD my strength is lifted high.
I have been delivered and I pray for deliverance for my children.
There is no one holy like the LORD; there is no one besides You; there is no Rock like our God."
How about you?
Take a moment and write out your own prayer of praise following Hannah's example.