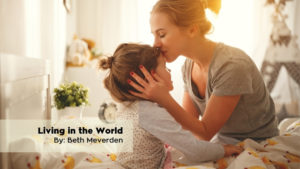 "These are tough times to raise children in this world." It's true that there are so many things our children must deal with that we never did. They face integrity decisions at an early age. Deception rages and disillusion deceives due to loss of moral standards spreading all around their world.
Jesus prayed about His disciples and said in John 17:14-19, "I have given them your word and the world has hated them, for they are not of the world any more than I am of the world. My prayer is not that you take them out of the world but that you protect them from the evil one. They are not of the world, even as I am not of it. Sanctify them by the truth; your word is truth. As you sent me into the world, I have sent them into the world. For them I sanctify myself, that they too may be truly sanctified."
Jesus sanctified the disciples who had been with them. He set them apart as He had been set apart. Think of this fact: He wants His disciples here. Here we've been planted in this hard, dark world that is lost without Him. But that's the point. We, His disciples, aren't of this world, but we live in this world as God's image bearers to draw others to Himself. We fight in a battle for the souls of all who don't yet know Jesus.
There is a war going on that is for our children's souls and the souls of all they could uniquely reach in Jesus' Name. If the enemy can't keep us from Jesus, He'll distract us and make us bad examples, so others won't want to follow Jesus. When we pray for our children, we are waging war against the enemy and the darkness in this world. We set an example for them of how to fight and wage war the right way, the set apart way.
We are to wage war against darkness the way Jesus did, with His light, with His truth. We need to make sure we aren't waging war the way the world does – against people, but that we are waging war the way Jesus does, for people – even and especially for those who don't, yet, know Him.
For though we live in the world, we do not wage war as the world does. 2 Corinthians 10:3
What does it look like for you to wage war the way Jesus does for your children?